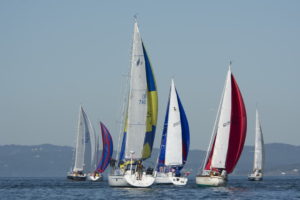 For the public, there are many opportunities to experience the historic 75th running of the Swiftsure International Yacht Race – and it's all free!
On Thursday, May 24th, at the Causeway Docks of Victoria's Inner Harbour, watch as yachts begin to arrive in the afternoon, and chat with the racers on the docks.
Friday, May 25th until 6 PM, walk the docks and, later in the afternoon, have your picture taken with Captain Jack Sparrow & Scarlett as they swash buckles. Make this the year you participate, celebrate and purchase historic 75th Swiftsure memorabilia and clothing at the tent at the top of the Causeway Docks.
On Saturday, make your way to Clover Point for 8 AM. There will be a pancake breakfast available from the Central Saanich Lions Club, while Swiftsure Commentators Michael Nusbaum and Daphne Goode share race information with the public over a PA system.
At 9 AM, a large gun blast and puff of smoke from the bow of HMCS Nanaimo will signal the first of six race starts. Each 10 minutes, a new race start is announced in the same way.
Once all races are underway, a Royal Canadian Air Force 442 Squadron will deploy a Cormorant helicopter for an over-the-water Search and Rescue demonstration in coordination with the Canadian Coast Guard.